Juicy, flavorful tri-tip roast is rubbed with spices, then cooked in the oven to a perfect medium-rare.
It's an inexpensive cut that produces impressive results (just make sure to slice it across the grain). Leftovers keep well for several days and can be enjoyed cold or reheated.
There's something about roasting a large piece of meat, then carving it at the table. It certainly makes for festive holiday dinners - ribeye roast and tenderloin roast are big favorites.
However, they are also expensive. For everyday meals, I still like to cook a large roast, but I opt for cheaper cuts. Those are often tougher - not as tender as more expensive cute - but they are wonderfully flavorful. London broil is one example. Tri-tip roast is another.
Jump to:
Ingredients
The ingredients you'll need to make this recipe and their exact measurements are included in the recipe card below. Here's an overview of what you'll need:
Dry rub: You'll mix kosher salt, black pepper, and several spices to create a tasty dry rub that greatly enhances the flavor of the roast. The spices I like to use include garlic powder, onion powder, chili powder, smoked paprika, cumin, and cayenne pepper.
Tri-tip: I get mine at Costco. It costs around $10 per lb. and you get two 2-lb. roasts in a tray, so a total of 4 lb. I love that you can cook both in the same pan and get lots of tasty leftovers to last you several days.
Oil spray: This is only needed if your meat has been completely trimmed by the butcher (as happens at Costco) and has no fat layer on top to keep the meat moist and juicy as it cooks.
Instructions
Tri-tip can be either grilled or roasted. I prefer oven-roasting. It's an easy hands-off cooking method that produces superior results. The trick is to cook the meat to medium rare. This ensures a tender roast. If you cook it to medium or medium well, it will be tough and chewy.
Having said that, it should be noted that the USDA says we should cook the meat to 145ºF with a three-minute rest time.
Your first step is to mix salt, pepper, and spices. Next, you rub this dry rub all over the meat, massaging it in. Now place the meat on a greased wire rack fitted into a rimmed roasting pan and insert a meat thermometer into its thickest part.
First, you cook the meat briefly in a hot (500F) oven for 15 minutes. This is instead of sauteing it on the stovetop. It's much easier, and it achieves the same goal - browning the meat.
Now, turn the oven temperature down to 350F and keep cooking the meat until a meat thermometer indicates that it's reached 130-135 degrees F for medium-rare. Let the meat rest for 20 minutes before slicing it.
Expert tip
Since it's a fairly tough, fibrous cut of meat, you want to cut this roast against the grain - slice it so that you break the meat fibers as you slice the meat. This makes chewing much easier.
The challenge is that in tri-tip, you have two parts, and in each of them, the muscle fibers run in a different direction. So you want to identify that direction prior to cooking, then cut the roast into two parts, and slice each of them against the grain of that particular part. You can watch the video below to see how I do it.
Frequently asked questions
What is tri-tip?
It's a beef cut that comes from the sirloin. The sirloin is separated by butchers into top sirloin and bottom sirloin. The top sirloin can be made into steaks. I sometimes use it in stir-fry recipes such as this beef stir-fry. The bottom sirloin provides us with the tri-tip, also called "Santa Maria Steak."
Is tri-tip tender or tough?
While it's a very flavorful cut, it's also fairly tough, with lots of muscle fibers running throughout the meat. That's why I recommend cutting it across the grain. It severs those tough fibers and makes chewing the meat much more pleasant.
Why do you let the meat rest before slicing it?
It's important to let the meat rest for at least 20 minutes after pulling it out of the oven.

This allows the juices to redistribute and settle and will prevent them from escaping the meat as you cut it (although some juices will escape, and you can pour them back on top of the meat after slicing it if you wish).
Variations
The best way to vary this recipe is to experiment with different spices and herbs. For example, you could try adding a teaspoon of dried thyme or dried oregano to the spice mixture.
Serving suggestions
This tasty roast goes with any side dish that you would normally serve with other steaks or roasts.
A few examples include sauteed mushrooms, steamed asparagus, microwave broccoli, and mashed cauliflower. It's also excellent with a simple side salad such as this arugula salad.
Storing leftovers
You can keep the leftovers in the fridge, in an airtight container, for up to 4 days. I reheat them very gently, in the microwave, covered, on 50% power.
Sometimes I slice them into strips, leave them cold, and add them to a salad. They're not great for sandwiches, though - they're a bit too chewy for that.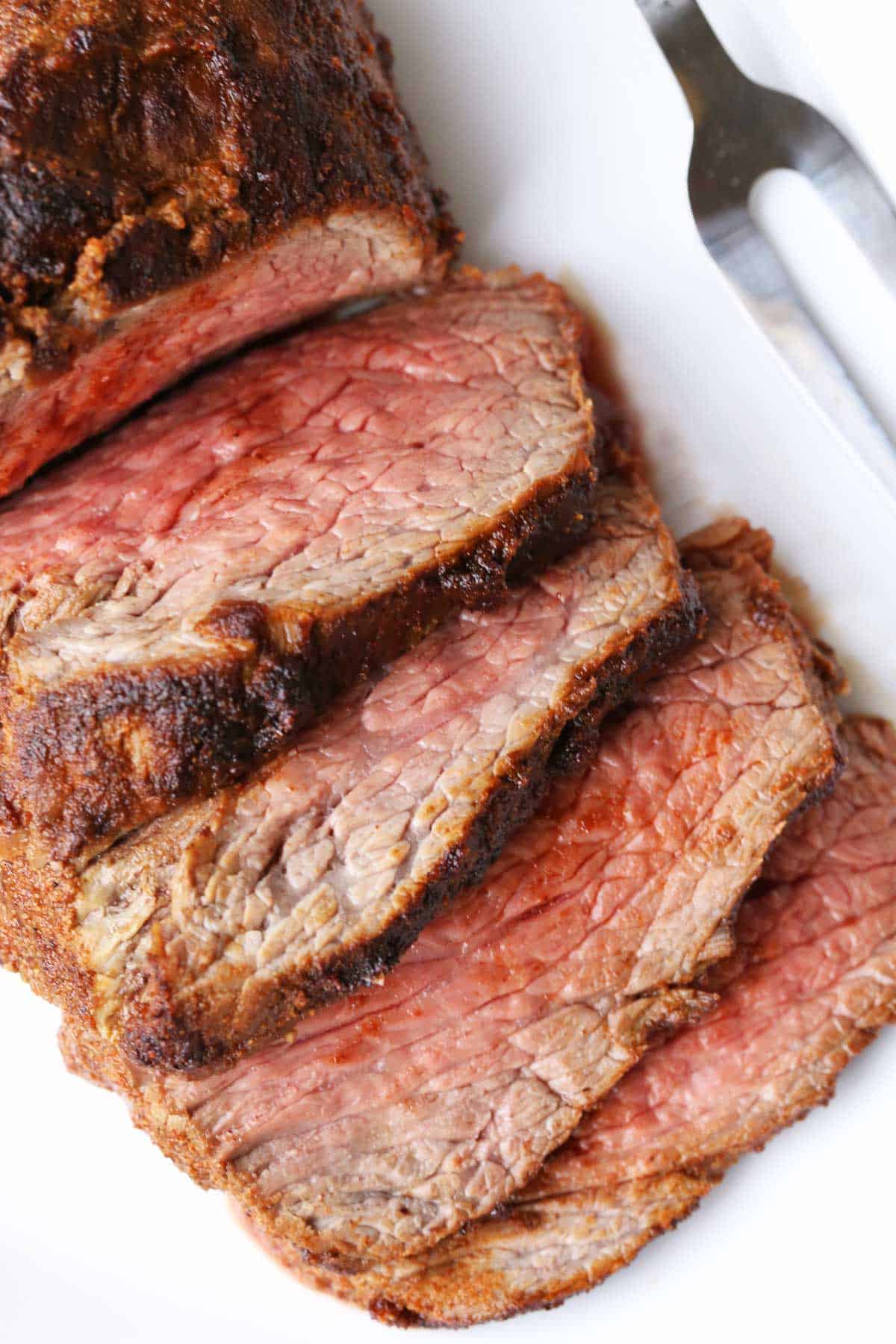 Related recipes
👩🏻‍🍳 I typically publish a new or an updated recipe once a week. Want these recipes in your inbox? Subscribe! You can unsubscribe at any time.
Recipe card
Oven-Roasted Tri-Tip
Juicy, flavorful tri-tip roast is rubbed in spices, then cooked in the oven to medium-rare. It's an inexpensive cut that produces impressive results!
INGREDIENTS
1

tablespoon

Diamond Crystal kosher salt

(not fine salt)

1

teaspoon

black pepper

1

tablespoon

garlic powder

1

tablespoon

onion powder

1

tablespoon

chili powder

1

tablespoon

smoked paprika

1

teaspoon

ground cumin

1

teaspoon

cayenne pepper

2

whole tri-tips

about 2 pounds each

Oil spray
INSTRUCTIONS
In a small bowl, use a fork to mix together the spices.

If it hasn't been trimmed by the butcher, trim the silver skin from the bottom of the roasts.

Rub the spice mixture all over the meat, pressing to make sure it adheres.

Place the meat, fat side up, on a greased rack in a roasting pan and allow it to get to room temperature, about 1 hour.

Preheat the oven to 500°F. If the meat is completely trimmed of fat (I get mine at Costco and it's fully trimmed), lightly spray it with oil.

Insert a meat thermometer into the thickest part of one of the roasts and set the thermometer to 130°F or 135°F (medium-rare).

Place the roasts in the 500°F oven and cook them for 15 minutes.

Reduce the oven temperature to 350°F. Keep roasting the meat until the thermometer registers 130°F-135°F. For 2- lb. roasts this should take roughly 20 minutes (10 minutes per pound). But the only way to know for sure is to use a meat thermometer.

Remove the roasts from the oven. Loosely cover them with foil and allow them to rest for 20-30 minutes, then cut them into thin slices against the grain (see notes below) and serve.
NOTES
When carving the meat, make sure to slice it against the grain, as shown in the video above. Since the meat fibers in a tri-tip roast run in two different directions, you'll need to cut each roast in half at the center point, then slice across the grain on each end.
Nutrition info is from Fitday.com for "Beef, bottom sirloin, tri-tip roast, separable lean and fat, trimmed to 0" fat, choice, cooked, roasted."
The CDC recommends cooking meat, poultry, and eggs thoroughly.
ADD YOUR OWN NOTES
DISCLAIMERS
Most of our recipes are low-carb (or keto) and gluten-free, but some are not. Please verify that a recipe fits your needs before using it. Recommended and linked products are not guaranteed to be gluten-free. Nutrition info is approximate and the carb count excludes non-nutritive sweeteners. Nutrition info may contain errors, so please verify it independently. Recipes may contain errors, so please use your common sense when following them. Please read our Terms of Use carefully before using any of our recipes.
NUTRITION PER SERVING
Serving:
6
oz
|
Calories:
370
kcal
|
Protein:
43
g
|
Fat:
21
g
|
Saturated Fat:
8
g
|
Sodium:
505
mg
NEVER MISS A RECIPE!
I typically publish a new or updated recipe once a week. Want them in your inbox? Subscribe!
❤️ Let's connect! Follow me on Pinterest, Facebook, TikTok, YouTube, Instagram, or Twitter.