If the 12-minute preparation time won't entice you to make this recipe, the fresh flavor surely will!

Pesto is basically basil, olive oil, garlic, and parmesan – these flavors pair amazingly well with seafood such as shrimp.
Like many of my recipes, this tasty shrimp recipe was born out of my desperate need to use up ingredients before they go bad.
It all started when I bought fresh basil to make a Caprese salad. The salad was amazing but required very little of the basil. And since basil doesn't keep well in the fridge, I decided to make some pesto sauce.
So now I had half a cup of pesto sauce in the fridge, and shrimp that I've defrosted the night before. I decided to combine the two and make this super easy and delicious recipe. Success! It's now part of our regular dinner rotation.
Jump to:
Ingredients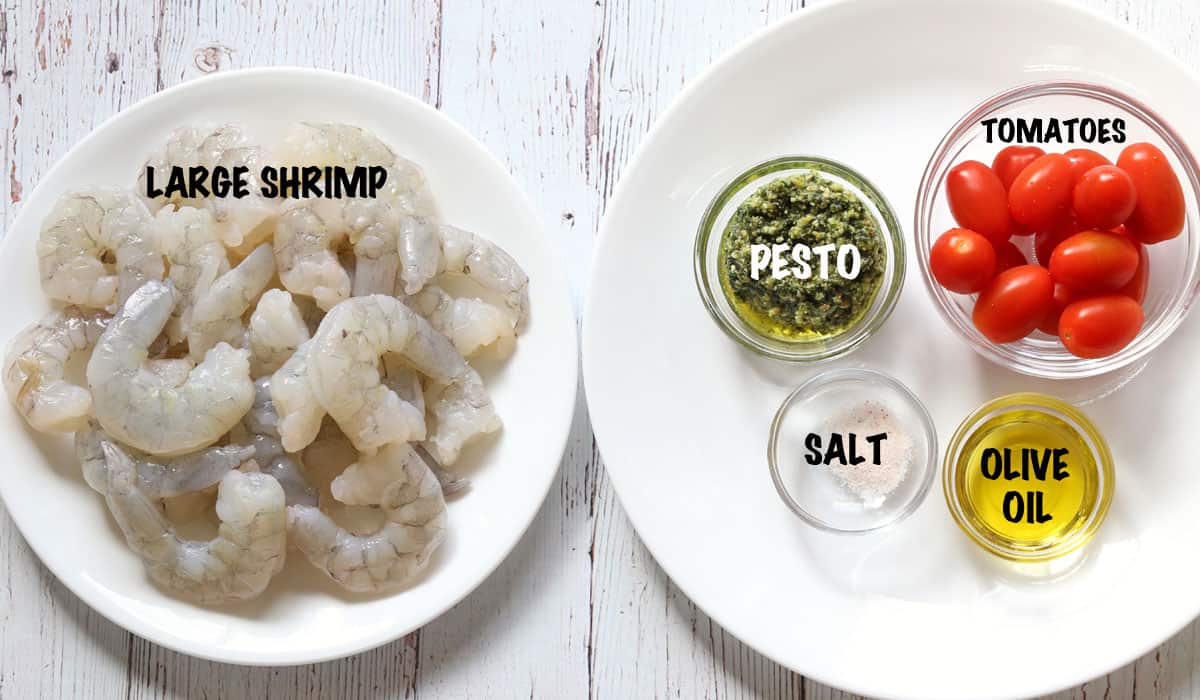 You'll only need a few simple ingredients to make this pesto shrimp recipe. The exact measurements are included in the recipe card below. Here's an overview of what you'll need:
Olive oil. Just one tablespoon for sauteing the shrimp.
Large shrimp. I use peeled and deveined shrimp in this recipe. I often use extra-large shrimp, but large is fine too.
Cherry tomatoes. You can omit those, but they do add nice color and flavor to the dish.
Salt. Just a pinch. You will later add the pesto sauce and that adds plenty of saltiness.
Pesto sauce. It's OK to use store-bought pesto, but make sure it's made with olive oil. Or you can quickly whip up homemade pesto in your food processor.
Instructions
Making pesto shrimp is super easy! Scroll down to the recipe card for detailed instructions. Here are the basic steps:
You simply saute shrimp and tomatoes in olive oil with a pinch of salt. Cook until the shrimp are almost completely opaque. This should take about 4 minutes.
Lower the heat and stir in some pesto sauce. Cook for just one more minute, until the shrimps are fully cooked. That's it! Dinner is ready.
Expert tip
The tomatoes will be partially cooked. If you want them fully cooked, add them to the skillet a minute before adding the shrimp.
Frequently asked questions
Can I use store-bought pesto sauce?
Yes. But try to find a sauce made with olive oil. It's surprising (and annoying) how many of these jarred sauces are made with soybean oil.

Keep in mind that store-bought pesto sauces, even high-quality ones, are usually quite mediocre in taste. They can't compare to the super-fresh taste of homemade pesto.
Can I bake the shrimp instead of sauteing them?
Yes. You can add them with the tomatoes to a bowl, add the pesto, and mix to coat. Then bake them in a single layer in a 400F oven until opaque.

This should take 8-10 minutes, depending on their size and on how hot your oven runs.

The disadvantage of this method is that you'll be cooking the pesto over fairly high heat, and it's best not to cook pesto.
Why do you lower the heat before adding the pesto?
To keep the fresh flavor of this sauce, you don't want to cook it, and certainly not over high heat. This method of adding it at the very end of cooking and just warming it up a bit makes sure it remains fresh-tasting.

This is especially important with homemade sauce. Store-bought ones are overcooked to begin with, which is also why they're not that good.
Can I use frozen shrimp in this recipe?
You'll need to defrost them first. If you need to do so quickly, place them in a bowl filled with cool water for 5-7 minutes, replacing the water once or twice. Place them on paper towels to drain.
Variations and substitutions
I love this recipe as is and almost always make it as written. But in case you'd like to vary the basic recipe, here are a few ideas for you:
You can make this recipe with smaller shrimp. If you do, you might need to adjust the cooking time. Shrimp are fully cooked when their translucent grayish color turns pink and opaque.
Sometimes I add a handful of pitted kalamata olives with the pesto sauce.
If you enjoy spicy food, try sprinkling the finished dish with red pepper flakes.
Serving suggestions
Here are a few suggestions for how to serve this dish:
Storing leftovers
You can keep the leftovers in the fridge, in a shallow airtight container, for up to 3 days. Reheat them gently, in the microwave on 50% power. They're also good as a salad topping the next day.
Related recipes
👩🏻‍🍳 I typically publish a new or an updated recipe once a week. Want these recipes in your inbox? Subscribe! You can unsubscribe at any time.
Recipe card
12-Minute Pesto Shrimp
Plump shrimp are quickly sauteed with tomatoes and pesto sauce. This 12-minute recipe is ideal for a weeknight dinner!
INGREDIENTS
1

tablespoon

olive oil

1

lb.

large shrimp

peeled and deveined

½

cup

cherry tomatoes

Pinch

salt

¼

cup

basil pesto sauce
INSTRUCTIONS
In a large (12-inch) nonstick skillet, heat the olive oil over medium-high heat, about 2 minutes.

Add the shrimp and the tomatoes with a pinch of salt.

Cook, stirring often, until the shrimp are almost cooked through, about 4 minutes.

Reduce the heat to medium-low. Stir in the pesto sauce and cook, stirring, until the shrimp are fully cooked and opaque, about one more minute.

Divide the shrimp and tomatoes between two plates. Use a rubber spatula to scrape any remaining sauce from the pan and pour it on top of the shrimp. Serve immediately.
NOTES
It's okay to use store-bought pesto sauce, although they are inferior to fresh homemade sauce. Try to find a high-quality sauce made with olive oil.  
The tomatoes will be partially cooked. If you want them fully cooked, add them to the skillet a minute before adding the shrimp.
These shrimp are excellent on their own or served on top of spaghetti squash or zucchini noodles. 
ADD YOUR OWN NOTES
DISCLAIMERS
Most of our recipes are low-carb (or keto) and gluten-free, but some are not. Please verify that a recipe fits your needs before using it. Recommended and linked products are not guaranteed to be gluten-free. Nutrition info is approximate and the carb count excludes non-nutritive sweeteners. Nutrition info may contain errors, so please verify it independently. Recipes may contain errors, so please use your common sense when following them. Please read our Terms of Use carefully before using any of our recipes.
NUTRITION PER SERVING
Serving:
0.5
recipe
|
Calories:
350
kcal
|
Carbohydrates:
6
g
|
Protein:
33
g
|
Fat:
21
g
|
Saturated Fat:
3
g
|
Sodium:
1695
mg
|
Fiber:
1
g
|
Sugar:
2
g
NEVER MISS A RECIPE!
I typically publish a new or updated recipe once a week. Want them in your inbox? Subscribe!
❤️ Let's connect! Follow me on Pinterest, Facebook, TikTok, YouTube, Instagram, or Twitter.