Beautiful, sweet-yet-tangy roasted cherry tomatoes make a delicious side dish and are just as wonderful for brunch as they are for dinner.
Ready in just 30 minutes, this flavorful dish is an interesting variation on eating them raw. Leftovers are great too!
I don't know about you, but I think tomatoes are wonderful whether raw or cooked. I adore them raw in a tomato salad or in this amazing Caprese salad, but I also love them cooked.
Cooking really concentrates and brings out their unique flavor. And it has a way of making them more savory than sweet. It's a very different experience than eating them raw.
Jump to:
Ingredients
You'll only need a few simple ingredients to roast cherry tomatoes in the oven. The exact measurements are included in the recipe card below. Here's an overview of what you'll need:
Cherry tomatoes: Try to pick ripe yet firm and bright red tomatoes. None of those pale mealy ones! 🍅
Minced garlic: I'm lazy so I use the stuff that comes in a jar. You can obviously mince it yourself. It will definitely taste better!
Olive oil: This is my favorite oil to use for cooking. But if you worry about its relatively low smoke point, you can use avocado oil instead, or you could try melted butter.
Balsamic vinegar: This is such a flavorful vinegar. It gets caramelized as it bakes and becomes almost sweet. I don't recommend using any other vinegar in this recipe.
Kosher salt and black pepper: If using fine salt, you should reduce the amount you use, or the dish could end up too salty.
Dried thyme: Make sure it's fresh. This herb is quite potent when dried. A stale herb can easily ruin a dish - speaking from experience!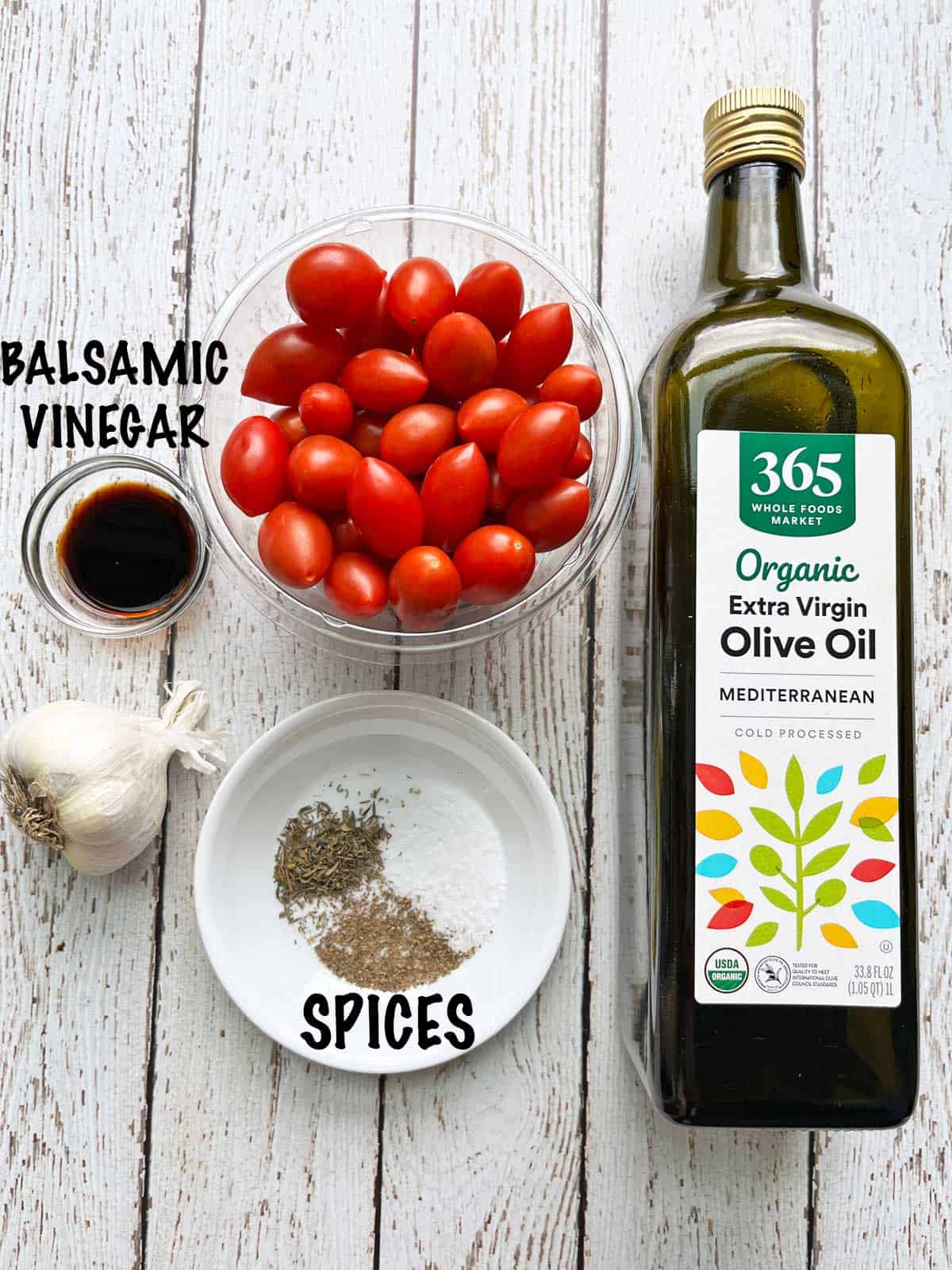 Instructions
Oven-roasting cherry tomatoes is so easy! Scroll down to the recipe card for detailed instructions. Here are the basic steps:
Your first step is to coat the tomatoes in olive oil, balsamic vinegar, and spices.
Then you bake them in a 425°F oven for about 20 minutes.
That's it! See? I told you it was an easy recipe!
Frequently asked questions
Should I slice the tomatoes before cooking them?
There's no need to slice them. When serving them raw it's a good idea to slice them because they tend to slide off forks. But when cooked, there's no reason to do so.
Should I peel the tomatoes before cooking?
No, you shouldn't. Their skin is tasty, non-intrusive, and bakes well. There's absolutely no reason to go through so much trouble.
Can I serve roasted cherry tomatoes at room temperature?
Absolutely. In fact, I feel that they taste better after they've had a chance to rest for a little while. So while it's fine to serve them immediately, you can also serve them after they've cooled to room temperature.
Should I bake the tomatoes covered or uncovered?
You should bake them uncovered. Covering them will make them steam in their own juices rather than roast.
Variations
Here are a few ideas for some tasty variations on the basic recipe:
Instead of olive oil, use melted butter. It's really good!
Add pitted black olives to the tomatoes - about ¼ cup.
Replace the thyme with oregano.
Sprinkle the tomatoes with grated parmesan cheese before baking - about 2 tablespoons.
Serving suggestions
These tasty tomatoes make a wonderful side dish. They go well with meat, poultry, and fish. I often serve them with baked chicken breast, cooking both the chicken and the tomatoes in the same oven. They also make a nice side dish to baked cod.
They are also surprisingly good when served for brunch. I like to serve them with eggs and with oven bacon for a delicious, complete morning meal.
Storing leftovers
The leftovers keep quite well in the fridge, in an airtight container, for 3-4 days. You can gently reheat them, covered, in the microwave.
Or you can serve them cold like you would serve antipasti. Sometimes I slice fresh mozzarella and serve it with these tomatoes as an impromptu Caprese salad of sorts. It's really good!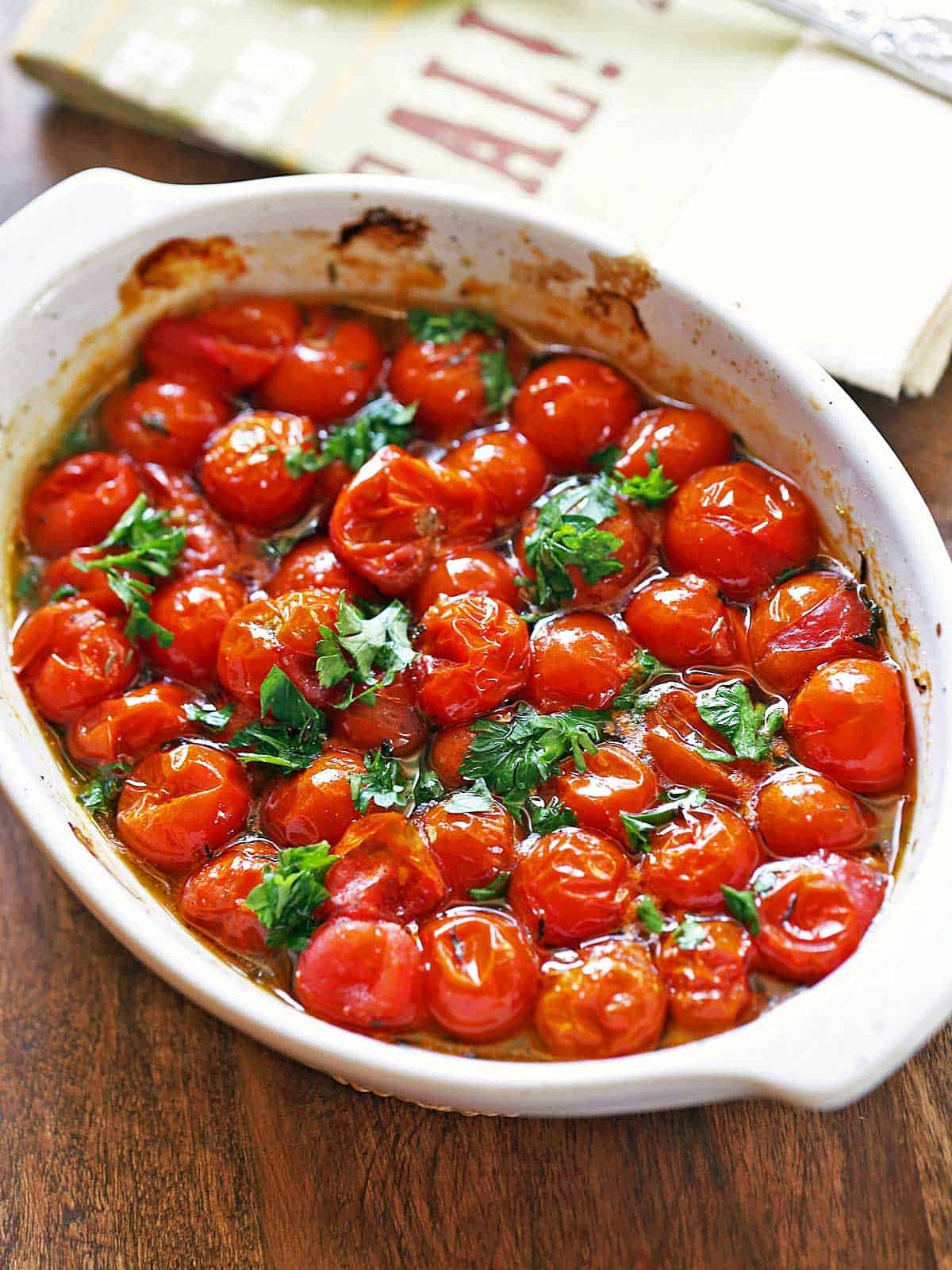 Related recipes
👩🏻‍🍳 I typically publish a new or an updated recipe once a week. Want these recipes in your inbox? Subscribe! You can unsubscribe at any time.
Recipe card
Roasted Cherry Tomatoes
Beautiful, sweet-yet-tangy roasted cherry tomatoes make a deliciously fresh side dish and are just as wonderful for breakfast as they are for dinner.
INGREDIENTS
1

pint

cherry tomatoes

(2 cups)

1

tablespoon

minced fresh garlic

2

tablespoons

olive oil

1

tablespoon

balsamic vinegar

½

teaspoon

Diamond Crystal kosher salt

¼

teaspoon

black pepper

½

teaspoon

dried thyme
INSTRUCTIONS
Preheat your oven to 425 degrees F.

Place the tomatoes in a medium bowl. Add the remaining ingredients and stir to coat.

Transfer the tomatoes to a small, 1-quart baking dish.

Roast until the tomatoes are soft and beginning to burst, about 20 minutes.

Divide the tomatoes among plates and drizzle with the cooking juices. Serve immediately. 
NOTES
There's no need to peel and/or slice the tomatoes prior to cooking them. Simply use them whole. 
A tasty variation for you to try: add a handful of pitted black olives to the tomatoes and sprinkle them with crumbled feta cheese prior to baking them. 
ADD YOUR OWN NOTES
DISCLAIMERS
Most of our recipes are low-carb (or keto) and gluten-free, but some are not. Please verify that a recipe fits your needs before using it. Recommended and linked products are not guaranteed to be gluten-free. Nutrition info is approximate and the carb count excludes non-nutritive sweeteners. Nutrition info may contain errors, so please verify it independently. Recipes may contain errors, so please use your common sense when following them. Please read our Terms of Use carefully before using any of our recipes.
NUTRITION PER SERVING
Serving:
0.5
recipe
|
Calories:
150
kcal
|
Carbohydrates:
7
g
|
Protein:
1
g
|
Fat:
14
g
|
Saturated Fat:
2
g
|
Sodium:
293
mg
|
Fiber:
2
g
NEVER MISS A RECIPE!
I typically publish a new or updated recipe once a week. Want them in your inbox? Subscribe!
❤️ Let's connect! Follow me on Pinterest, Facebook, TikTok, YouTube, Instagram, or Twitter.