Microwave sweet potato is the perfect side dish. It is easy, quick, delicious, and leftovers are great too! You can serve it plain (and it's excellent that way!) or add butter and seasonings to make it a bit more interesting.
I love using the microwave. It's not suitable for everything, but for cooking vegetables, it's often just as good as other methods. So I often make microwave cauliflower, microwave spaghetti squash, microwave broccoli, and of course - sweet potato.
"Baking" a sweet potato in the microwave is easy and quick. And you can make several of them, keep the leftovers for a few days in the fridge, and reheat when you want to enjoy them.
The ingredients you'll need
You'll only need one ingredient to make this super-easy recipe - a medium sweet potato. It should weight about 7 oz. If yours is bigger than this, you will need to adjust the cooking time accordingly.
An optional ingredient is some butter to put on the cooked potato (salted or unsalted, depending on your own preferences). Some people also like to sprinkle it with cinnamon or even to drizzle it with a little honey or maple syrup.
How to cook a sweet potato in the microwave
It's so easy! Simply pierce the skin and place the potato on a paper towel. Then microwave it for 2-3 minutes per side, depending on its size. You will know it's ready when you can easily pierce the flesh with a fork.
As always when using the microwave, it's best to err on the side of not cooking it for long enough, then gradually adding more sessions. You can't save it if it's overcooked. But you can cook for a bit longer if it's not fully cooked.
Once done to your liking, allow the potato to slightly cool, then cut it in half. The recipe card below provides the detailed instructions.
There's no need to peel the potato
You can simply wash it well, then microwave it with the skin on. Sweet potato skin is edible, so it's up to you if you want to remove it before eating or not. I like to leave it on.
How to eat microwave sweet potato?
I enjoy it just as it is, warm and tender and flavorful. Sometimes I add a sprinkle of kosher salt. Obviously, you can add a pat of butter. My husband likes to sprinkle his with a little fine-grated parmesan cheese.
I know that many people like a sweet version. I haven't tried it myself, but you could try a pat of unsalted butter or coconut oil, a sprinkle of cinnamon, and perhaps a drizzle of honey or maple syrup.
If you'd like to try other savory seasonings, a few tasty options include cumin, smoked paprika, or a sprinkle of grated parmesan.
What to serve with this dish?
Anything! It's such a wonderfully versatile side dish. It goes with so many main courses. And since it's so easy to prepare, it frees you up to cook anything you like, even complex dishes.
I often serve microwave sweet potato with baked chicken breast, as a side to reverse seared steak, or with baked pork chops. It's also excellent with a couple of fried eggs for a tasty and filling meatless dinner.
What about leftovers?
You can keep leftovers in the fridge, in a sealed container, for 3-4 days. Reheat them gently, covered, in the microwave on 50% power. Sometimes I turn the leftovers into mashed sweet potatoes.
More sweet potato recipes
For a more complex - and rewarding - recipe, try these incredible twice-baked sweet potatoes. And mashed sweet potatoes are wonderfully creamy and delicious!
Never miss a recipe!
I typically publish a new recipe once or twice per week. Want the new recipes in your inbox? Subscribe!
How to Microwave a Sweet Potato
Sweet potatoes are filling and delicious, and they can be quickly cooked in the microwave with incredible results.
INGREDIENTS
1

medium sweet potato

(7 oz)

1

tablespoon

butter

(optional)
INSTRUCTIONS
Wash and dry the sweet potato. Don't peel it. Pierce it in a few places with a fork.

Place the potato on a paper towel and microwave it on high for 3 minutes. Turn it to the other side and microwave for 2 more minutes, or until fork-tender.

Allow the potato to rest for 2 minutes before serving.

I like to simply slice the cooked potato and enjoy its natural sweetness - I don't even sprinkle it with salt, as I find the saltiness detracts from its natural flavor. But obviously, you can cut it in half, sprinkle it with salt and pepper, and top it with a little butter.
NOTES
Toppings such as butter are optional and were not included in the nutrition info. 
NUTRITION INFO
Most of our recipes are low-carb (or keto) and gluten-free, but some are not. Please verify that a recipe fits your needs before using it. Recommended and linked products are not guaranteed to be gluten-free. Nutrition info is approximate and may contain errors, so you should independently verify it. It is calculated using the SparkPeople.com recipe calculator and the carb count excludes sugar alcohols. Please read the disclaimers in our Terms of Use carefully before using any of our recipes.
Nutrition Facts
How to Microwave a Sweet Potato
Serving Size
1 sweet potato
Amount per Serving
% Daily Value*
* Percent Daily Values are based on a 2000 calorie diet.
NEVER MISS A RECIPE!
I typically publish a new recipe once or twice per week. Want the new recipes in your inbox? Subscribe!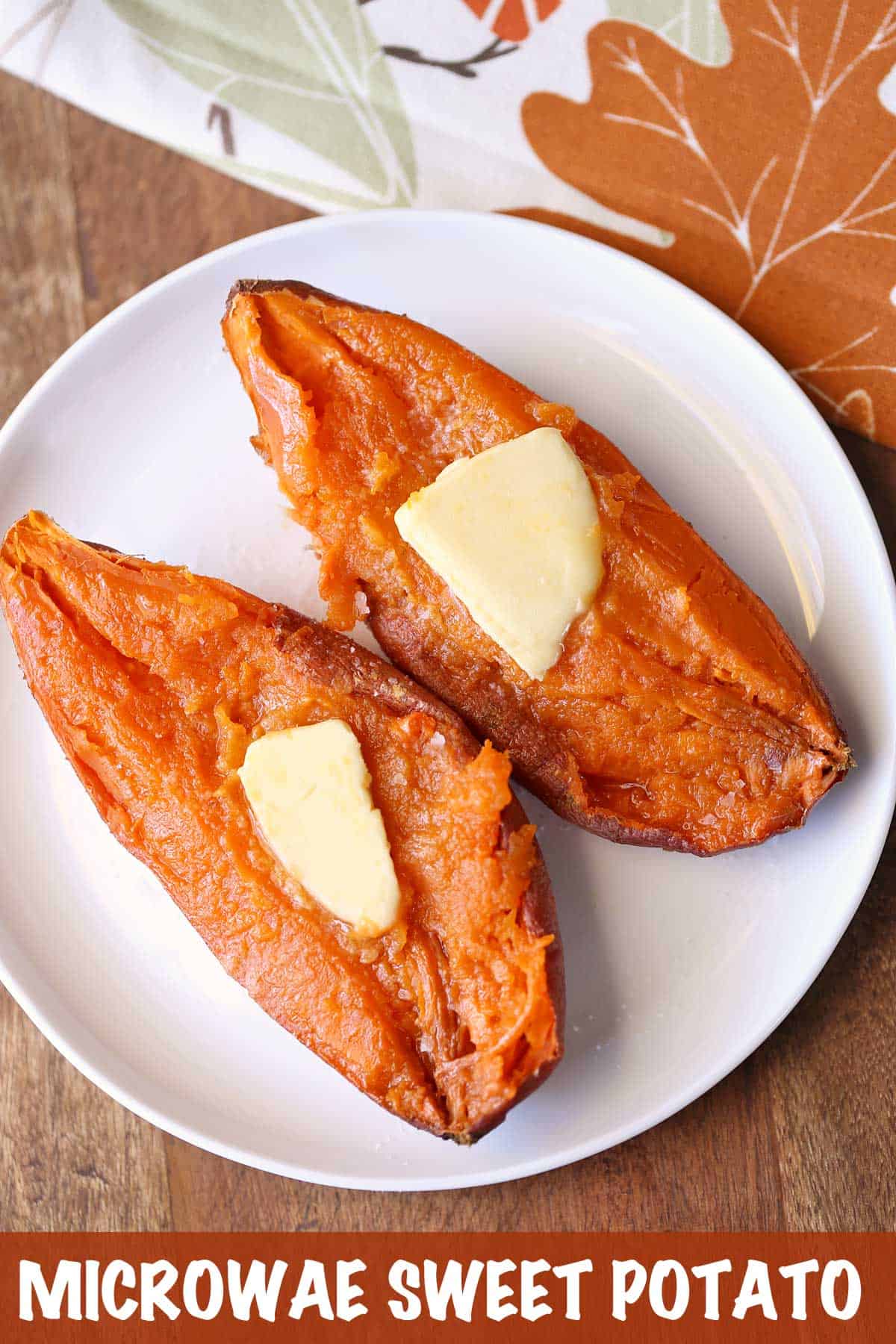 ---
More Recipes to Try: