An easy recipe for tender, flavorful oven beef back ribs. It's not a quick recipe, but it's truly easy, and the result is so very flavorful!
These oven beef back ribs are super easy to make (though not quick) and they are so tender. Whenever I spot these ribs at Whole Foods, I immediately buy them. We all really enjoy this dish.
What are beef back ribs?
Beef back ribs are what's left after the butcher cuts the ribeye roast off the bones. Since butchers want to maximize profit, they cut as much meat as they can. So there's not much meat left on top of the bones, but there are big chunks of super delicious, fatty meat between the bones.
How do you cook beef back ribs?
This meat is tough and needs to be cooked low and slow. When cooked properly, beef back ribs are tender, succulent, and very flavorful. The fatty meat falls off the bones.
So don't try to cook them quickly! Much like other tough meats, such as chuck roast (see this slow cooker pot roast recipe), brisket (check out my easy oven brisket recipe) or oven baked spare ribs, beef back ribs take time. But this doesn't mean that making them is difficult. On the contrary, this is an easy recipe, perfect for when you're home anyway and can baste the ribs once in a while.
My favorite way to cook beef back ribs is to bake them in a slow oven, using smoked salt and smoked paprika to give them a smoky flavor, and a marinade of vinegar and hot sauce to help tenderize and caramelize the meat, and give it extra flavor.
What side dishes go with beef back ribs?
Traditional sides served with ribs are often starchy. But I like to serve this rich, meaty dish with vegetables to balance it out. I often serve beef back ribs with collard greens fritters, with broccoli and cheese sauce, or with sauteed mushrooms.
Is this a healthy recipe?
I believe it is. Red meat is very nutritious, and the claims that it unhealthy are just claims – they haven't been proven. But this is not to say that you should eat it with abandon, displacing other foods.
The best thing you can do to eat healthfully is to eat a wide variety of natural foods. So in addition to beef, it's good to eat chicken, fish and seafood, eggs, dairy, nuts, and of course, vegetables and fruit.
What about leftovers?
We never have any leftovers when I make these amazing oven beef back ribs. But if you do have leftovers, they should keep in the fridge, in an airtight container, for 3-4 days. Gently reheat them in the microwave on 50% power before serving.
Oven Beef Back Ribs
An easy recipe for tender, flavorful oven beef back ribs. It's not a quick recipe, but it's truly easy, and the result is so very flavorful!
INGREDIENTS
1/2

cup

apple cider vinegar

2

tablespoons

hot pepper sauce

2

racks beef back ribs,

2 lb. each

Olive oil spray

2

teaspoons

smoked salt

1/2

teaspoon

black pepper

2

teaspoons

smoked paprika

1

teaspoon

onion powder

1

teaspoon

garlic powder
INSTRUCTIONS
Preheat oven to 250 degrees F. Line a rimmed baking sheet with parchment paper.

In a small jar, mix the apple cider vinegar with the hot sauce. Set aside.

Place the ribs on the prepared baking sheet, bone side down. (Use two baking sheets if they don't fit in one). Spray the ribs with olive oil and sprinkle with smoked salt, black pepper, smoked paprika, onion powder and garlic powder.

Bake the ribs for 1 hour.

Mix the apple cider vinegar marinade again, then pour it into three small bowls, dividing it evenly. Baste the tops of the ribs with 1/3 of the marinade.

Return the ribs to the oven and bake them for three more hours, basting the top with 1/3 of the marinade every hour (make sure you rinse the basting brush after each basting with hot soapy water).

After 4 hours of baking, the ribs should be nicely browned and very tender. At this point you can serve them, but to make them even better, reduce the oven to 200 degrees F, and keep them in the oven for one more hour. This will ensure extra tender beef with extra crispy, caramelized exterior.

Remove the ribs from the oven, cut into six portions and serve.
NOTES
If your beef back ribs come already separated into individual ribs, bake them just four hours.
NUTRITION INFO
Nutrition info is approximate. It is calculated using the SparkPeople.com recipe calculator, and the carb count excludes sugar alcohols. Please read the disclaimers in our Terms of Use carefully before using any of our recipes. Recommended and linked products are not guaranteed to be gluten-free. Please verify they are before using.
Nutrition Facts
Oven Beef Back Ribs
Amount Per Serving
Calories 329
Calories from Fat 225
% Daily Value*
Total Fat 25g 38%
Sodium 830mg 35%
Total Carbohydrates 2g 1%
Protein 24g 48%
* Percent Daily Values are based on a 2000 calorie diet.
NEVER MISS A RECIPE!
I typically publish a new healthy recipe once or twice per week. Want the new recipes in your inbox? Subscribe!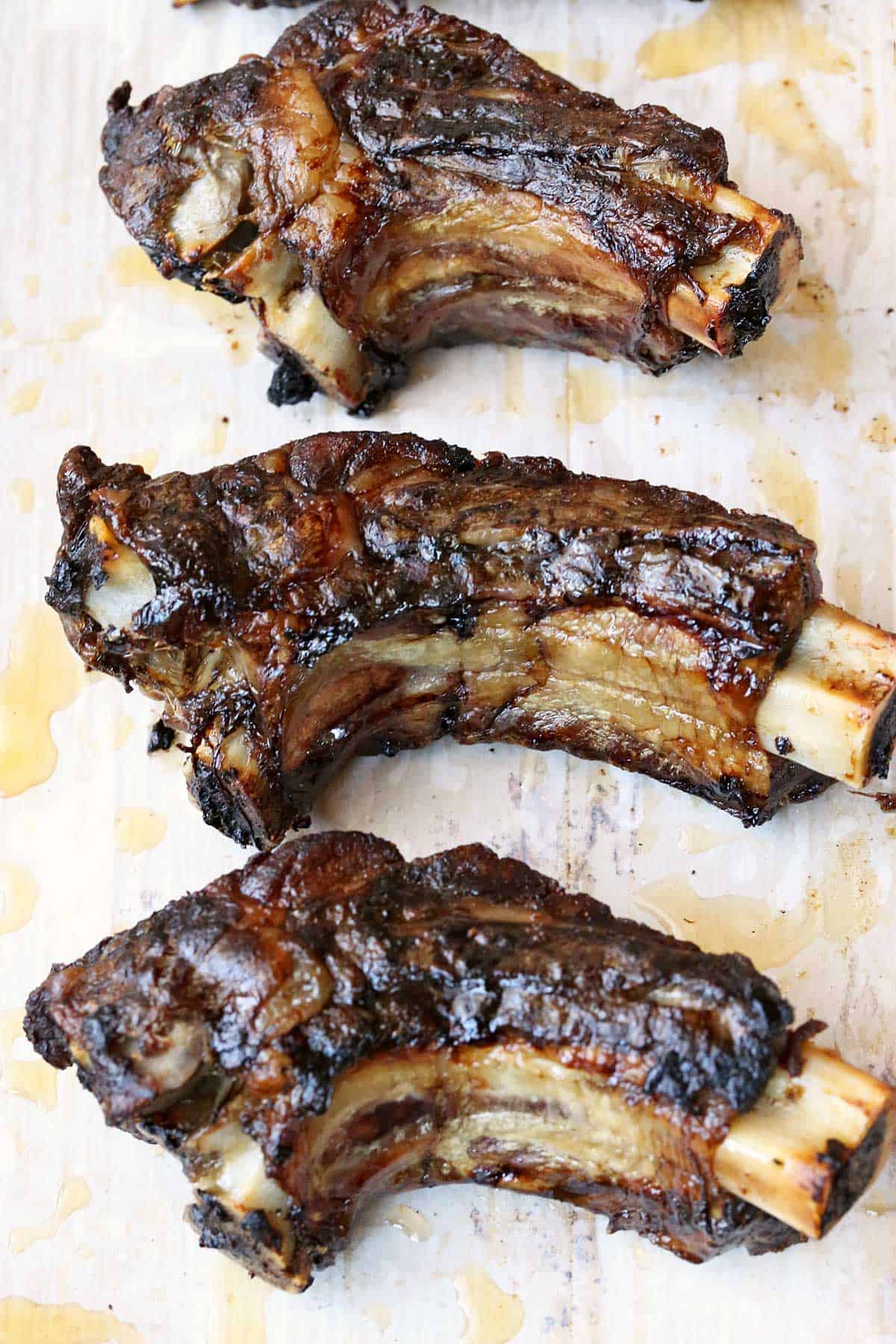 ---
More Healthy Recipes: