This wonderfully cheesy and creamy cauliflower mac and cheese is just the thing when you crave the old familiar comfort food but prefer to minimize carbs.
Ready in a mere 30 minutes, this easy side dish also keeps well in the fridge for several days.
This keto mac and cheese is so good. It's tasty, creamy, and comforting. A bowl of it really hits the spot when I crave the classic dish but want to keep my carbs in check.
It's one of those magical recipes that help you avoid feeling deprived while on a low-carb diet. It's so wonderfully cheesy and delicious! And it's ready in just 30 minutes, making it a great choice for a weeknight dinner.
Jump to:
Ingredients
You'll only need a few simple ingredients to make this tasty side dish. The exact measurements are listed in the recipe card below. Here's an overview of what you'll need:
Fresh cauliflower: Cut into small florets. I haven't tried making this recipe with frozen cauliflower, but I suspect that fresh is the way to go for the best flavor and texture.
Heavy cream: I tried to make this recipe with half-and-half. Nope. Heavy cream is definitely better.
Dijon mustard: This traditional French mustard is creamier, thicker, and less vinegary than yellow mustard.
Spices: I use garlic powder and cayenne pepper. The cayenne adds a very subtle kick. The dish is not spicy.
Shredded cheddar cheese: I prefer extra-sharp cheddar. I think it gives this dish a wonderful flavor.
Black pepper to finish the dish: freshly ground tastes best.
Instructions
Making cauliflower mac and cheese is easy! It takes 5 minutes to trim the cauliflower and divide it into small florets.
Then, it takes about 7 minutes to steam the cauliflower in the microwave until tender-crisp.
When the cauliflower is ready, place it in a serving dish, cover it (or keep it in the oven on "warm"), and make the cheese sauce.
Making the cheese sauce is so easy! Simply heat some heavy cream with seasonings, then gradually mix in the cheese, stirring over low heat just until it melts and the sauce thickens. The last step is to pour the sauce over the cauliflower florets and gently mix. That's it!
Expert tip
There's no need to add flour to the sauce to thicken it. The sauce thickens beautifully even without flour. I suspect that using store-bought pre-shredded cheese helps the sauce thicken, because of the anti-caking agent added to these cheeses (powdered cellulose in the Whole Foods brand).

If you're shredding your own cheese and you feel that the sauce is too thin, I suggest simply adding more cheese. Try ¼-1/2 cup.

Another option is to mix a teaspoon of gluten-free cornstarch with a teaspoon of cold water and add that to the sauce. Increase the heat to medium so that the sauce bubble gently, and mix until the sauce does thicken.

The small amount of cornstarch only adds about 2 grams of carbs for the entire dish and it does help to thicken the sauce. And unlike flour, you don't need to use a significant amount, so you won't taste the starch in the sauce.
Frequently asked questions
How much cheese should I use in the sauce?
I recommend you start with one cup, then see if you need to add more. It's best to measure the cheese by weight (4 oz) and not by volume, to ensure you use enough cheese to thicken the sauce.

If the sauce is not thick enough, try adding ½ cup more cheese (2 oz).
How do I prevent the sauce from becoming stringy?
Unlike Swiss cheese or mozzarella, cheddar doesn't become stringy very easily.

But if you'd like to make sure that your cheese sauce won't become stringy, stir it over low heat just until the cheese is melted and no longer than that. You could also squeeze a little fresh lemon juice into the sauce.

I believe that the Dijon mustard, an acidic ingredient, also helps prevent stringiness. So use it! It adds flavor AND helps with the texture.
Can I use bagged cauliflower florets?
Yes. You can make this recipe even easier by buying a bag of pre-cut and washed florets. However, if the pre-cut florets are large, make sure to chop them into smaller florets, as shown in the video below.
Does cauliflower mac and cheese taste like the real thing?
It doesn't taste like the real thing, but it's an excellent substitute. That is, assuming you like cauliflower, because the cauliflower flavor does come through.
Variations
The best way to vary this recipe is to add various spices and herbs. Try adding a pinch of dried thyme - it's really good. Sometimes I add a pinch of smoked paprika for a lovely smoky flavor.
You can also use different cheeses instead of cheddar. Good options include Colby, Gruyere, and Gouda.
Serving suggestions
I like to serve this cauliflower mac and cheese with hearty meat dishes such as beef back ribs and hamburgers. It's also good with these baked drumsticks.
Storing leftovers
You can keep the leftovers in the fridge, in an airtight container, for up to 3 days. Reheat them, covered, in the microwave.
You can also freeze this dish for up to three months. I recommend freezing it in microwave-safe containers, in individual portions, then microwaving those portions.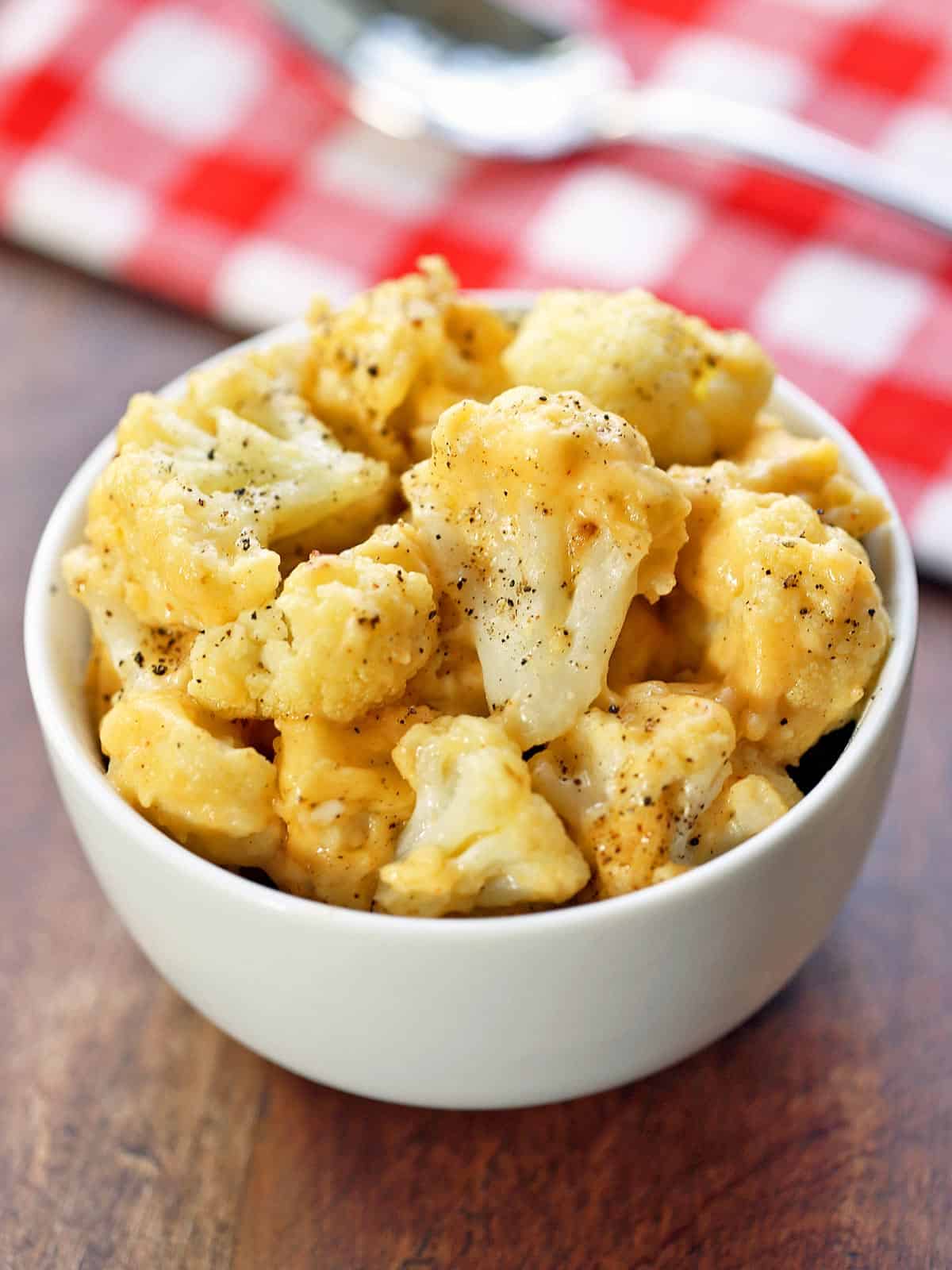 Related recipes
👩🏻‍🍳 I typically publish a new or an updated recipe once a week. Want these recipes in your inbox? Subscribe! You can unsubscribe at any time.
Recipe card
Cauliflower Mac and Cheese
Creamy cauliflower mac and cheese is just the thing when you crave the old familiar comfort food, but prefer to minimize carbs.
INGREDIENTS
1

medium head cauliflower

cut into small florets (6 cups, 20 oz florets)

½

cup

heavy cream

2

teaspoons

Dijon mustard

½

teaspoon

garlic powder

⅛

teaspoon

cayenne pepper

1

cup

shredded cheddar cheese

(4 oz)

¼

teaspoon

black pepper
INSTRUCTIONS
Place the cauliflower florets in a large microwave-safe bowl. Add ¼ cup water. Cover and microwave on high until tender-crisp, about 7 minutes. Drain, then return to the bowl and cover to keep warm.

In a medium saucepan, whisk together the heavy cream, Dijon, garlic powder, and cayenne. Heat over low heat, stirring occasionally.

When the cream mixture starts bubbling on the edges, add the grated cheese gradually, mixing it in slowly and patiently with a rubber spatula.

Keep heating the cheese sauce over very low heat, stirring gently, until the cheese is completely melted and the sauce is smooth and slightly thickened.

Pour the cheese sauce over the cauliflower florets and gently toss to combine. Season with freshly ground black pepper and serve.
NOTES
If you feel that the cheese sauce is too thin, you can add more cheese. Or mix a teaspoon of organic cornstarch with a teaspoon of cold water, add it to the sauce, increase the heat to medium so that the sauce starts to gently bubble, and mix until thickened.
I don't add salt to this dish because Dijon and cheddar are very salty. But you can add salt to taste if you wish. 
ADD YOUR OWN NOTES
DISCLAIMERS
Most of our recipes are low-carb (or keto) and gluten-free, but some are not. Please verify that a recipe fits your needs before using it. Recommended and linked products are not guaranteed to be gluten-free. Nutrition info is approximate and the carb count excludes non-nutritive sweeteners. Nutrition info may contain errors, so please verify it independently. Recipes may contain errors, so please use your common sense when following them. Please read our Terms of Use carefully before using any of our recipes.
NUTRITION PER SERVING
Calories:
170
kcal
|
Carbohydrates:
6
g
|
Protein:
7
g
|
Fat:
14
g
|
Saturated Fat:
9
g
|
Sodium:
192
mg
|
Fiber:
2
g
|
Sugar:
2
g
NEVER MISS A RECIPE!
I typically publish a new or updated recipe once a week. Want them in your inbox? Subscribe!
❤️ Let's connect! Follow me on Pinterest, Facebook, TikTok, YouTube, Instagram, or Twitter.