Fragrant, delicious and comforting, this keto banana bread is perfect as a tasty breakfast or a filling snack.
The paleo option is made with honey while the keto option is made with fewer bananas and with a sugar-free sweetener.
This bread is amazing. It's fragrant, not too sweet, the perfect breakfast or snack bread. As I was baking it, my house filled with the most amazing fragrance of sweet roasted nuts, banana, and cinnamon.
My starting point when creating this recipe was my pumpkin bread recipe. It's basically the same, with mashed bananas instead of pumpkin.
I also use less sweetener, because ripe bananas are so sweet. The keto option (see below) uses fewer bananas and a sugar-free sweetener.
Jump to:
Ingredients
You'll only need a few simple ingredients to make this keto banana bread. The exact measurements are included in the recipe card below. Here's an overview of what you'll need:
Eggs: I use large eggs in most of my recipes, this one included.
Bananas: Very ripe and well-mashed.
Vanilla extract: Try to use the real thing - pure vanilla extract - and not the artificially flavored stuff.
Ground cinnamon: Make sure it's fresh. I use a whole tablespoon - you can use just 1 teaspoon for lighter-colored bread. But the cinnamon does add wonderful flavor.
Honey: Or you could use a keto alternative such as stevia or any granulated sweetener.
Almond flour: An excellent flour substitute that bakes exceptionally well. I use blanched finely ground almond flour in this recipe. I haven't experimented with a coarse almond meal.
Kosher salt: If using fine salt, use just ⅛ teaspoon.
Baking soda: If you'd like to try using gluten-free baking powder (though I haven't tested it in this recipe), remember that ¼ teaspoon of baking soda is equivalent to 1 teaspoon of baking powder.
Instructions
Making this keto banana bread is easy! Scroll down to the recipe card for detailed instructions. Here are the basic steps:
Whisk all the ingredients together, one by one in the order listed, in one bowl.
Transfer the batter to a small loaf pan, parchment-lined and greased.
Bake the bread for 40-50 minutes at 350°F. How long you need to bake it would depend on your oven. When it's done, a toothpick inserted in the middle of the loaf should come out dry.
Cool the bread completely before enjoying it. This is the hardest part! You will want to dig in right away. But the bread will be too soft and gooey when it emerges from the oven. Its texture and flavor will improve as it cools.
Expert tips
Here are a few tips to help ensure this bread is a resounding success:
Use ripe but not spoiled bananas. You should definitely use very ripe bananas in this recipe. You want bananas that are deep yellow with plenty of black spots on the outside, and very soft on the inside. Just make sure there are no white spots on the inside and that the inside is not runny - this means the banana is spoiled.
Use a small loaf pan. If you use a standard-size loaf pan, 9 X 5 inches, the bread will come out very flat. So make sure you use a small loaf pan measuring 8.5 X 4.5 inches.
Let it cool completely. The bread emerges from the oven with a gorgeous dark crust. It smells heavenly. You will want to dig in right away (or maybe let it cool for an obligatory 10 minutes). Please don't! This bread is too soft and gooey when it comes out of the oven. It really does need to cool completely. I cool it for two hours on a cooling rack, and only then do I slice it - and it's perfect. In the past, when I was impatient and sliced it after just 20 minutes, it was still delicious - but too gooey and crumbly. Both its texture and flavor greatly improve after it's cooled.
Frequently asked questions
Can you make bread with just almond flour?
Absolutely! This tasty bread is the proof, and I have several more that I make with just almond flour and they turn out well. Combining almond flour with eggs and a leavening agent creates beautiful breads.
Can I substitute baking powder for baking soda?
If you'd rather use baking powder, you should use 3-4 teaspoons of it instead of 1 teaspoon of baking soda. Make sure your baking powder is fresh - it doesn't last as long as baking soda.

Also, keep in mind that baking soda promotes browning. So the crust might come out paler if you use baking powder.
Can I use a sweetener other than honey?
Yes. In fact, the sweetener is optional. I recently made a version of this bread with no sweetener at all, relying on the fruit for sweetness. I thought it was perfect - just the right amount of sweetness.

So you're welcome to try that. You can always drizzle the baked bread with some honey if you find it's not sweet enough for your taste.

But you can certainly make the recipe as I wrote it here, with a small amount of honey, or with a sugar-free sweetener. Even though I use honey, I'm fairly certain that a granulated sweetener would work just as well. So feel free to experiment with coconut sugar, brown sugar, or a sugar-free granulated sweetener.
The keto version
To make a keto version of this banana bread:
Use just two bananas.
Replace the honey with 2 tablespoons of any sugar-free sweetener or the equivalent in stevia.
Bake for a shorter time, as the batter will be drier with just two bananas. 30-40 minutes should do it.
The keto version has 150 calories, 10 grams of carbs, and 3 grams of fiber per slice. If you need an even lower-carb bread, I highly recommend this keto zucchini bread.
Serving suggestions
I like this tasty bread just as it is. My kids like it lightly toasted, with sweet butter and a drizzle of honey. It's also wonderful with cream cheese, almond butter, or peanut butter if you don't mind peanuts.
I wanted a basic bread that would go with anything, so I didn't add any extras to the batter. I'm curious about chopped walnuts or pecans, or perhaps a handful of chocolate chips. I might try it next time I make this recipe!
Storing leftovers
Once the bread is completely cool, slice it. Then place the slices in an airtight container, separating layers with wax paper. You can keep them this way in the fridge for up to 4 days.
You can also freeze the slices in freezer bags. Again, if layering, separate the layers with wax paper.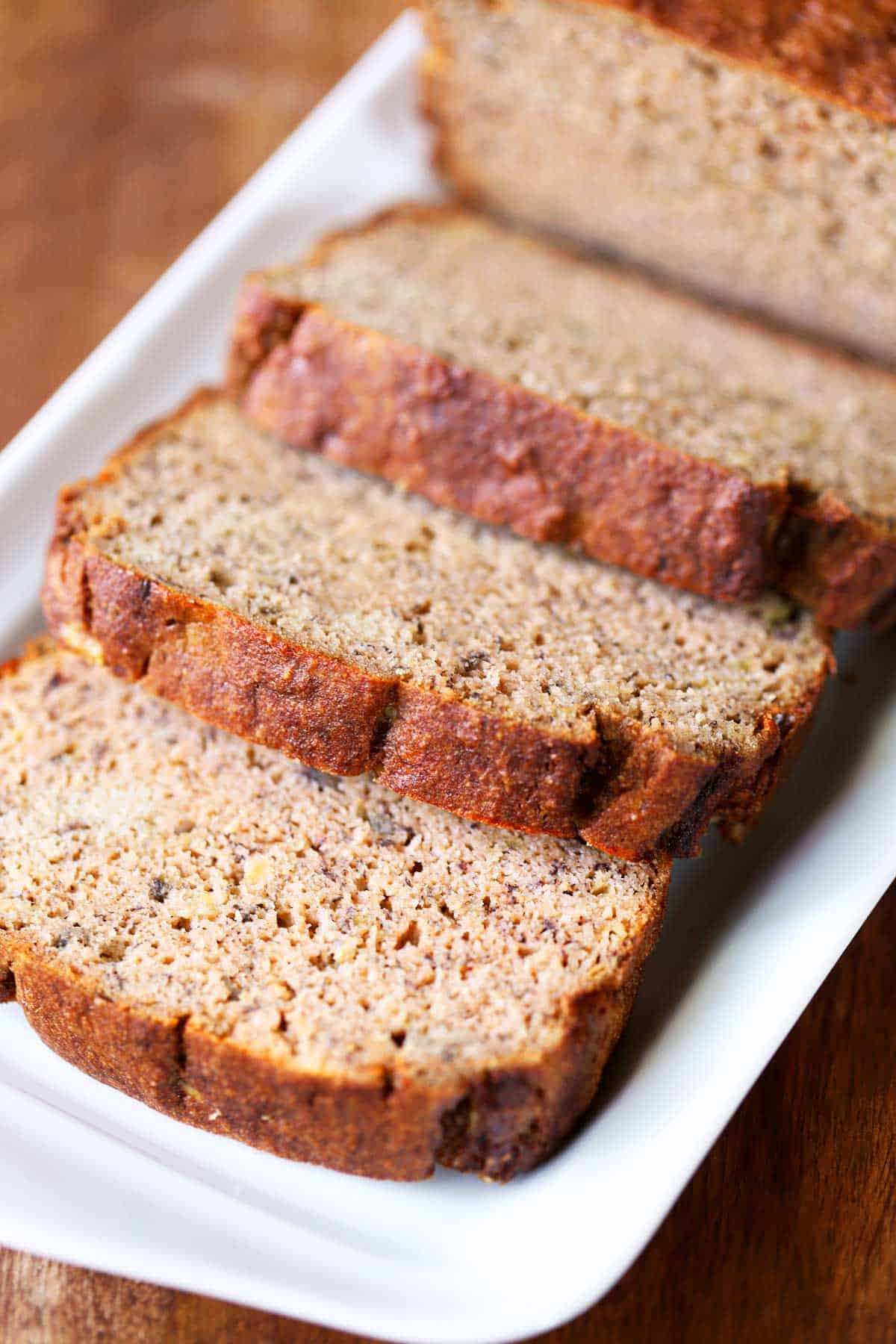 Related recipes
👩🏻‍🍳 I typically publish a new or an updated recipe once a week. Want these recipes in your inbox? Subscribe! You can unsubscribe at any time.
Recipe card
Keto banana bread
Fragrant and comforting, this almond flour banana bread is just perfect as a tasty breakfast or a filling snack.
INGREDIENTS
Cooking spray for the pan

(I use avocado oil spray)

3

large eggs

3

large very ripe bananas

well mashed (1.5 cups)

1

tablespoon

vanilla extract

2

tablespoons

honey*

2

cups

blanched finely ground almond flour

(8 oz)*

1

tablespoon

ground cinnamon

¼

teaspoon

Diamond Crystal kosher salt

1

teaspoon

baking soda**
INSTRUCTIONS
Preheat your oven to 350°F. Line a small loaf pan (8.5 X 4.5 inches) with parchment paper strips, leaving an overhang on each side of the pan. Lightly spray the lined pan with oil.

In a medium bowl, whisk together the eggs, mashed bananas, vanilla, and sweetener.

Gradually whisk in the almond flour, cinnamon, kosher salt, and finally the baking soda. Whisk until smooth.

Using a rubber spatula, transfer the batter to the prepared pan. Gently tap the pan on the countertop to evenly distribute the batter.

Bake the banana bread until browned and set, and a toothpick inserted in its center comes out dry, 40-50 minutes.

Using the excess parchment paper as handles, carefully remove the banana bread from the pan and transfer it to a wire rack. Carefully remove the parchment, to allow air to circulate.

Cool the bread completely on the cooling rack for about 2 hours. Slice it into 12 slices and serve.
NOTES
*I use Bob's Red Mill Super-Fine Almond Flour. One cup of this flour weighs 4 oz, so 2 cups weigh 8 ounces. It's best to measure almond flour by weight rather than by volume.
**Occasionally, baking soda can cause a reaction in baked goods that results in an unpleasant ammonia smell. If you're concerned about it happening, you could use 4 teaspoons of gluten-free baking powder instead of baking soda. If you opt for baking powder, please make sure it's fresh and not expired. 
For a keto version: Use just two bananas; replace the honey with 2 tablespoons of any sugar-free sweetener or the equivalent in stevia, and bake the bread for just 30-40 minutes (the batter will be drier with just two bananas). The keto version has 150 calories, 10 grams of carbs, and 3 grams of fiber per slice.
ADD YOUR OWN NOTES
DISCLAIMERS
Most of our recipes are low-carb (or keto) and gluten-free, but some are not. Please verify that a recipe fits your needs before using it. Recommended and linked products are not guaranteed to be gluten-free. Nutrition info is approximate and the carb count excludes non-nutritive sweeteners. Nutrition info may contain errors, so please verify it independently. Recipes may contain errors, so please use your common sense when following them. Please read our Terms of Use carefully before using any of our recipes.
NUTRITION PER SERVING
Serving:
1
slice
|
Calories:
172
kcal
|
Carbohydrates:
15
g
|
Protein:
6
g
|
Fat:
11
g
|
Saturated Fat:
1
g
|
Sodium:
147
mg
|
Fiber:
3
g
|
Sugar:
8
g
NEVER MISS A RECIPE!
I typically publish a new or updated recipe once a week. Want them in your inbox? Subscribe!
❤️ Let's connect! Follow me on Pinterest, Facebook, TikTok, YouTube, Instagram, or Twitter.