These amazing keto donuts taste almost like the real thing. The moist, delicate crumb and the luscious chocolate glaze are wonderful!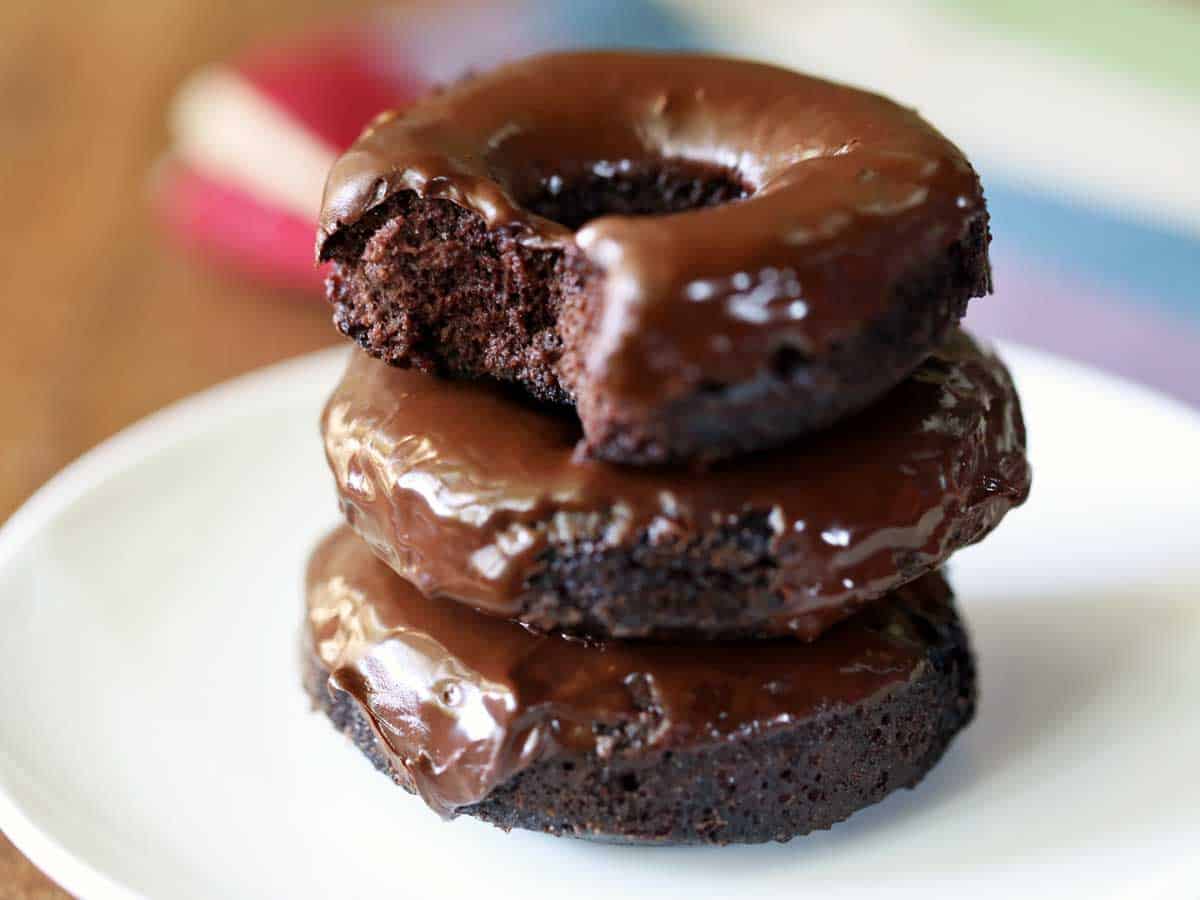 These wonderful donuts are yet another proof that one can indulge in amazing treats even on a low-carb diet. They are soft, moist, and wonderfully chocolaty. They remind me of chocolate cake donuts - an old favorite. 🍩
You'll need a donut pan to make them, but other than this special piece of equipment, making them is a straightforward affair and not particularly challenging. The only reason I don't make them often is that they're so irresistible, I tend to overindulge!
Jump to:
Ingredients
You'll only need a few simple ingredients to make these tasty keto donuts. The exact measurements are listed in the recipe card below. Here's an overview of what you'll need:
Eggs: I use large eggs in almost all of my recipes, this one included.
Unsalted butter: I love using European butter, it's so flavorful.
Milk: Only three tablespoons. You can replace it with heavy cream if you wish.
Sweetener: I use stevia glycerite, which pretty much eliminates the bitter aftertaste typical to stevia products. You can probably replace it with a granulated sweetener.
Coconut flour: An excellent flour substitute. Try to measure it by weight if you can. Every extra gram makes a difference in this ultra-dry ingredient.
Cocoa powder: It's best to use a natural unsweetened cocoa powder in this recipe.
Salt and baking soda: If you'd like to try using baking powder (though I haven't tested it in this recipe), remember that ¼ teaspoon of baking soda is equivalent to 1 teaspoon of baking powder.
For the glaze: Dark chocolate chips and avocado oil. I use extra dark chocolate chips (85% cacao) to make the glaze. You can find them on Amazon (I included a link below in the recipe card). You could use stevia-sweetened chocolate chips, but personally, I'm not a huge fan of them and prefer to use the real thing.
Instructions
How to make keto donuts? It's easy! The detailed instructions are included in the recipe card below. Here are the basic steps:
You start by whisking all the ingredients (except for the glaze ingredients) in a bowl.
Next, you add the batter to a greased silicone donut pan cavities. Bake the donuts at 350°F for about 17 minutes.
Cool them, carefully remove from the pan, and glaze. Allow the glaze to set, then enjoy!
Recipe tip: Use natural cocoa powder
The baking soda in this recipe needs an acid to react with. The milk provides some, via lactic acid. But for best results, it's best to use natural cocoa powder and not Dutch-processed cocoa powder that was treated with alkali. If it was treated with alkali, it should state so on the ingredients list.
Variations and substiutions
I love this recipe as is and almost always make it as written. But in case you'd like to vary the basic recipe, here are a few ideas for you:
As mentioned above, you can use heavy cream instead of milk.
You can use baking powder instead of baking soda (gluten-free if needed). You'll need 1 teaspoon of baking powder.
I like to top the donuts with shredded coconuts and chopped nuts. Another tasty option is to drizzle the donuts with melted peanut butter.
Storing leftovers
Once completely cool, keep the leftovers in the fridge, in a single layer in an airtight container, for up to 4 days. Remove them from the fridge 30-60 minutes before you plan on eating them. Chocolate always tastes best at room temperature.
Frequently asked questions
What pan should I use for keto donuts?
It's really important to use a silicone donut pan. These donuts are made with coconut flour and stick to metal pans - including nonstick ones.
They sometimes very lightly stick even to silicone. So when it's time to release them from the pan, do so very slowly, using a knife or a tiny rubber spatula to very gently separate them from the pan as needed.
What are keto donuts made of?
They can be made with low-carb flour. Two popular choices are almond flour and coconut flour. In this particular recipe, we're using coconut flour. It's especially suitable for donuts because it tends to produce baked goods with a slightly spongy texture, which works well in a donut recipe.
Can I substitute almond flour for coconut flour?
Unfortunately, you can't. This recipe was specifically written for coconut flour, which is extremely absorbent and needs extra eggs and liquids to prevent baked goods from being too dry.
Reader reviews
KetoChris made this recipe, loved it, and posted this beautiful photo on Instagram, which she graciously allowed me to feature here. It makes me want to make this recipe again, right now!
And Mel posted this gorgeous photo of her own creation:
She says: "Donuts! Just in time for National Donut Day! Found a donut recipe that may just work as a cake recipe! These donuts are more of a cake-like moist donut! So good!
I only glazed 2 of them so the others we can try other glazes. This recipe is kid and hubby approved! Little man kept walking to the kitchen asking what's that smell!? while they were baking."
Related recipes
If you like chocolatey baked goods and have enjoyed these keto donuts, I have quite a few more on this website! A few of my favorites are:
Subscribe
I typically publish a new recipe once a week. Want the new recipes in your inbox? Subscribe!
Recipe card
Keto Donuts with a Rich Chocolate Glaze
These amazing keto donuts taste almost like real cake donuts! They are soft, moist, and chocolaty.
INGREDIENTS
Donuts:
Nonstick oil

for pan

4

large eggs

½

cup

unsalted butter

melted (112 grams)

3

tablespoons

whole milk

1

teaspoon

stevia glycerite

(equals ⅓ cup sugar)

¼

cup

coconut flour

¼

cup

unsweetened natural cocoa powder

(not treated with alkali)*

¼

teaspoon

sea salt

¼

teaspoon

baking soda
INSTRUCTIONS
Whisk together the eggs, melted butter, milk and stevia.

Whisk in the coconut flour, cocoa powder, salt and baking soda.

Fill the donut pan cavities ¾ full. Bake until set and a toothpick inserted in donuts comes out clean, about 17 minutes.

Place the pan on a cooling rack and allow to cool for 15 minutes.

Meanwhile, in a shallow bowl, melt the chocolate chips in the microwave, in 30-second intervals, stirring after each session. Stir in the avocado oil.

Gently run a knife around the edges and center of each donut. Carefully release the donuts from the pan. Dip each donut into the glaze.

If desired, sprinkle the donuts with toppings such as shredded coconut or chopped nuts, or drizzle with melted peanut butter.

Cool the donuts until the glaze sets, about 30 minutes, then serve. 
NOTES
*The baking soda in this recipe needs an acid to react with, and cocoa powder treated with alkali will not provide that acid.
Nutrition label includes donuts and glaze, but no toppings.
NUTRITION INFO
Most of our recipes are low-carb (or keto) and gluten-free, but some are not. Please verify that a recipe fits your needs before using it. Recommended and linked products are not guaranteed to be gluten-free. Nutrition info is approximate and may contain errors, so you should independently verify it. It is calculated using the SparkPeople.com recipe calculator and the carb count excludes sugar alcohols. Please read the disclaimers in our Terms of Use carefully before using any of our recipes.
Nutrition Facts
Keto Donuts with a Rich Chocolate Glaze
Amount per Serving
% Daily Value*
* Percent Daily Values are based on a 2000 calorie diet.
NEVER MISS A RECIPE!
I typically publish a new recipe once or twice per week. Want the new recipes in your inbox? Subscribe!
---
More recipes to try